Many brands use content marketing to build engagement and reach more audiences every day so that in the long run they can earn more.
A blog is certainly not the first channel of conversion in the minds of various marketers and entrepreneurs, however, this resource has enormous potential and has become a genuine method to generate and nurture new prospects. In fact, people who use content marketing get approximately 13 times more benefits and positive ROI.
When it comes to blogs, the ability to convert visitors to customers depends completely on the success rate of their CTAs (Call to Actions). Surely you already know that these should be explicit and clear, but you have asked yourself, what else can I do to optimize my CTAs?
In this article we have the answer.
Tips to improve your CTAs
Use a strategic location
Most of the CTAs in various blogs are at the end of the article, this location obeys a decision to a certain logical point in which it is established that, if a reader comes to finish reading the article in its entirety, it means that it is committed with this one so he will most likely choose to click the CTA.
 However, if we take into account the statistics that the most popular location to put a CTA is at the end of the article, we run the risk that your target audience becomes immune, gets bored and / or finally ignores them completely. That's why you should always consider every alternative that comes your way.
Sliding CTAs
For example, slip-on CTAs have proven effectiveness. These appear in the form of a box when a reader is scrolling down on your blog. As the name suggests, the element that contains the chosen CTA «slides» accompanying the user on the side of the web page visually striking.
In general, it is best to use this CTA as an opportunity to offer your blog readers some additional content that is related to the article being read.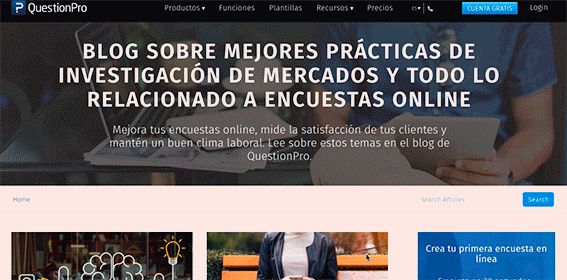 Ejemplo de Banner / CTA deslizante
This is a perfect way to approach readers as it does not directly confront an incongruous incentive. This location of the CTA can lead to significant results, proof of this is the test conducted by HubSpot over a month, they added a sliding CTA in ten of its publications with higher performance.
Then they compared the impact of the sliding CTA against that of the static CTA at the end of the post and found that the sliding Call To Action had 192% more CTR (Click to rate) and generated 27% more records.
Full Screan CTAs
Another option is full screen CTAs, although they are less subtle they can also help to impact the audience correctly.
Sometimes they are often intrusive and affect the experience of the user who visits your blog, but if you have certain considerations such as showing the pop-up only once clearly marked, this type of CTA will surely help you to capture the attention of your users. 
Sure you will be interested to read: Funnel sales, what you should know so you do not run.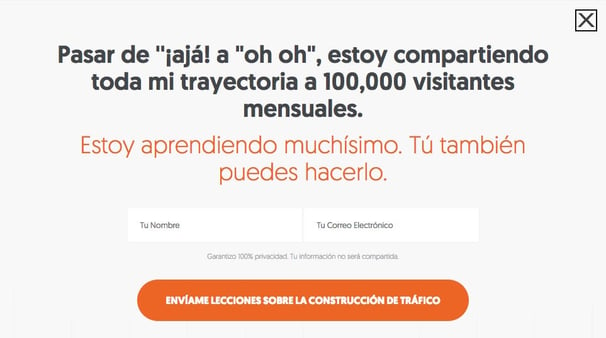 Example of a ful screan  CTA 
2.- Keep an effective promotion
The promotion of the content of your blog can have a considerable impact on the traffic of your site and your conversion rate. In addition to paid advertising, there are other strategies you can adopt to take advantage of the potential of your content, this can be achieved through the proper use of Call To Actions (CTAs).
It is important to make the action of sharing your content easy for all your readers. There are simple ways to achieve this, one of the most common is to include Social Media buttons in your landing pages or articles, currently this option is available for many CRMs such as WordPress through easy-to-install plugins.
You can also use the simple online tool called Click-To-Tweet so your readers can share phrases or fragments of your article on Twitter.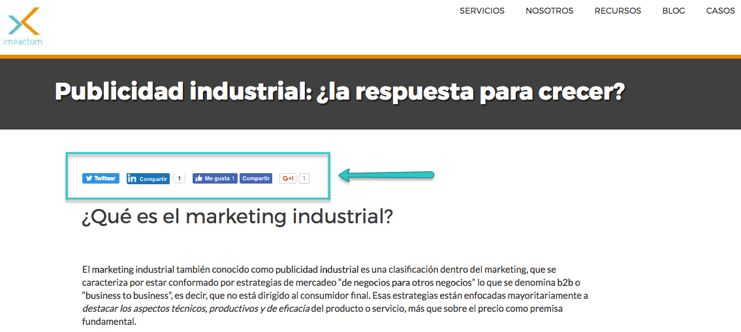 Example effective promotion in networks
Another way to get closer to your audience and increase the engagement of your publications is by including CTAs that encourage participation or asking questions to your readers, in this way you can create new content based on their opinions and thanks to this participation, your readers will feel valued and identified with the content you generate, thus promoting dissemination.
You can reach them by doing a survey on line and posting it on your social networks. I share here some psurvey templates so you do not have to start from scratch.
3.- Generates exclusivity and urgency
Creating a sense of exclusivity and urgency to encourage users to take a certain action are two techniques widely used by marketing specialists. The first is to take advantage of the feeling of having a privilege that few have and the second is based on capitalizing the fear of users of losing an attractive promotion or offer.

If you can combine the sense of exclusivity and urgency, they will surely impact your audience in a unique way.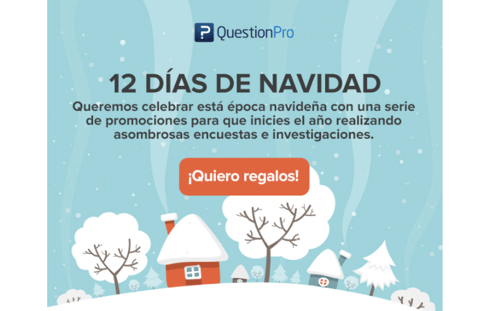 This must be achieved through promotions. For example, if you have an e-commerce site you can offer your audience the opportunity to obtain a discount on the purchase of products in exchange for subscribing to your blog.
You can turn this tactic into a very effective lead generation method. You can also encourage your subscribers to get Upsales or some other benefit.
Another way to cultivate a sense of exclusivity is to offer your readers access to exclusive events such as webinars. If your business is aware of the importance of the content as part of their marketing campaign, surely they will have already made some, if not, what are you waiting for?
 You will be surprised how many benefits you can get.
It is very important that you do not confuse the webinars with promotional videos, testimonials or demonstrations of your service, a webinar should focus on covering complementary topics to the information of your blog or related to the needs and interests of your audience.
Use the articles of your blog to disseminate, inviting them to register to a landing page where you can collect your data to use this information in the future as they get relevant information with attractive CTAs to make a successful conversion.
 I hope these tips will be of great help, I usually use them in almost all my projects generating great results, surely many of these can be put into practice by you in a short time. What do you expect?
A lot of success in your online business and we'll see you surfing the net!